I don't really have anything exciting to impart up here this week. Let's get straight on with it, shall we?
Things to read
"To wake up in a capsule (Capsule B807) is to wake up in a place unlike anywhere else. There is a bed, a window, clothes everywhere and the sound of morning traffic. However, there is also something less tangible, something that makes every waking moment special. Maybe it's the brilliance of the great round window or the quiet charm of the table, sometimes open and covered with junk, other times closed and silent. Maybe it
's the door of the bathroom, appearing as if an entrance to a submarine. Or maybe it's the scale of the room, a scale that seems just about right. Every morning brings a happy sense of the sublime."

—Architects Ana Luisa Soares and Filipe Magalhães spent a year living in the decomposing remains of Tokyo's Nakagin Capsule Tower, the epitome of 1972's Metabolist vision of the future.

*

"His apartment became the new Reddit headquarters and Chris effectively became the third member of the team. 'We had two mornings in a row when Reddit would crash at 6:30 and I'd wake up at 7,' Chris recalls. 'After two mornings of me waking Steve up, he showed me how to restart Reddit.'"

—A hefty history of Reddit from Mashable. The first half is fascinating, the rest less so (there's a lot more corporate tech-speak once people start resigning and they actually need to start making money). But the story of the original "aliens in the valley" is compelling, not least because it finally brought home to me that they had no idea what Reddit is really for when they were building it, and probably still don't know now. Also, bonus points for the strangely dramatic letterbox image scroller, which mostly reveals... drumroll... a Facebook picture from 2006 of some twenty-something white guys at a party!

*

"All of the adults at school were disciplinarians; all the actual disciplinarians were men. The head of them all was a man called Mr. J, a transparently stupid Steve Buscemi lookalike who radiated dull, grim anger. 'When was the last time you even read your Bible?' he asked me once, signing me into detention for my frayed jean skirt. 'Did your parents even teach you to?' There was a paddle on the wall. He tapped his pen and waited. I asked him why I was in trouble when I, as a cheerleader, would be required to wear something much skimpier the next day. The answer was always vague and always about Jesus."

—An essay from Jia Tolentino, a former pupil at a Texas high school attached to a Baptist megachurch. Plenty of purity rings, cheerleading outfits and the overwhelming need to be good when you know, really know, that you're bad.

*

"In many ways, Sade was a startlingly modern thinker. He despised the notion that women were merely vessels for procreation and celebrated their orgasmic potential. His laying bare of institutional misogyny made him a paradoxical hero for some feminists. Angela Carter wrote a book on him called The Sadeian Woman."

—The other side of the Marquis de Sade – less pervert, more proto-feminist who was unjustly imprisoned for having ideas that were ahead of his time.

*

"The winner is the ex whose career skyrockets after the split; whose new wife is a ­supermodel; who looks better; who dates better; who has bouncier hair. It's getting over your ex before she gets over you and leading a demonstratively successful life without her – but doing so in ways that at least look casual, just for yourself, definitely not just to rub it in her face, because you're so over her, remember? And therein lies the Catch-22 of winning the breakup: to care about winning, you are forced to care about not caring about someone. Asked about her weekend plans, my 26-year-old friend Sam once replied, 'I'm assembling a team of hotties to torture my ex on Instagram.'"

—How to win a break-up in the age of social media. Or: why the broken-hearted make terrible detectives.

Things to listen to
The more I look into it, the more I am convinced that all good comedy starts on the radio. BBC Radio 4 Extra's Chris Morris retrospective provides further proof of this – he might be more widely known from Brass Eye, Four Lions, Nathan Barley and so on, but it was on the wireless that he first made his mark. If you aren't already familiar with his work, I recommend this 15-minute profile of him as a place to start. Then you're going to need to dive straight into Raw Meat Radio, a compilation show with lots of clips from his early stuff for On the Hour and Why Bother? and interviews with the likes of Armando Iannucci and David Quantick. Finally, get stuck into the full archive of Blue Jam on YouTube.

Things to watch
Salmon look really great in HD.
Little Red Riding Hood has had enough (and so has the wolf).
How to fold the world's best paper aeroplane - nail that crease.

Compulsory medieval thingamabob
The dark side I sense in you.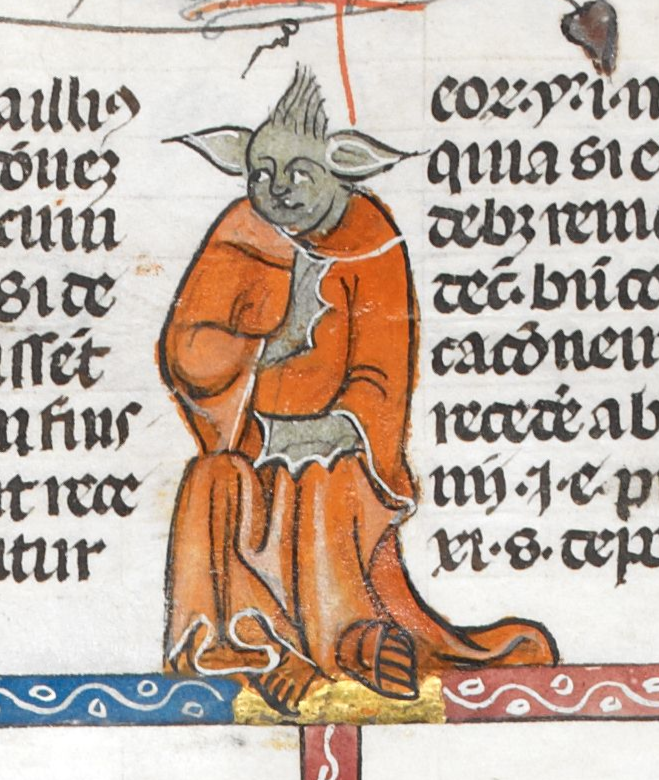 The guest gif
Ok, so Taylor didn't actually send me this. But she did put it on her Tumblr, which is pretty much the same thing. I <3 you too.

THE END. See you next time*!

*Next time will probably be next Friday. If you want to suggest things I should include in the next one of these, please do reply and send me links.